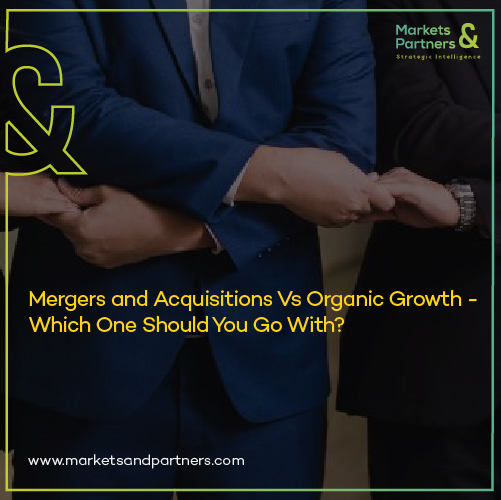 Despite economists talking about a potential, global economic slowdown, there seems to be no dearth of news about companies acquiring other businesses, in order to expand. Every business is and should be, about growth and introducing structural changes in a business by way of a merger, acquisition or organic growth is all about accelerating revenue and improving market share. The question is, what is the right growth strategy for your business?
Is it strategically better for you to grow organically by setting up satellite locations and franchising using aggressive sales and marketing tactics? Or are you in a position to buy out businesses in the desired market and do a complete rebrand? There is no "right" answer for this question but it does beg a complete understanding of what these growth strategies entail and how they can serve your business objectives.
The pros and cons of organic business growth
When you grow your business organically, in a natural and progressive way, you have the best control over it and can steer it the best way you see fit. This route is not completely devoid of unexpected setbacks but if you are consistent in your marketing efforts and improve your services and products to suit the market's evolution and demands, the growth can be largely predictable and controllable in the long run.
Apart from functional and operational growth, you will also have the pride of accomplishing the successful growth of your own business, with the services, products, and teams you have built – this is one of the most important reasons that entrepreneurs prefer growing organically.
On the flip side of strict, organic growth is that it is usually very slow. It may take years for your business to become established and profitable to even enter a new market. There are a few exceptions to this phenomenon where we see an apparent explosion of a company on the map but behind the growth lies years and, in some cases, decades of hard work.
For example, McDonalds uses a velocity program as its growth strategy – the company identifies profitable locations and opens up a store to cater to the locality. McDonalds started with one store in one locality and, as a result of organic growth, it has become one of the most recognized brands in the world.
It is important to assess your objectives and ensure that you do not spread yourself or your team too thin, just to expand for the sake of it. It is crucial that the risks you take are calculated.
The pros and cons of mergers and acquisitions
The biggest advantage of a strategic acquisition is the expedition of your growth. And if executed well, mergers and acquisitions can yield a number of instant benefits that can make your rapid growth sustainable. The major benefits that strategic acquisition adds to your company's growth are easier financing and instant economies of scale. It also improves your competitive advantage by allowing you to catch your competition off-guard and manage to instantly penetrate areas that were previously weak for your business.
Therefore, this method of growing your business comes with two-fold benefits – it improves your company's market, reach, influence and awareness while making it easy for you to overtake your competitors.
A good example here can be Disney's acquisition of Pixar for $7.4 Billion in 2006. Disney identified a potential competition and went in with a deal that Pixar could not turn down. And the move has paid off for Disney with massive hits at the box office.
The main challenge here lies with execution as it directly impacts the sustainability of the growth. It can yield quick results but a poorly executed out merger or acquisition can be your fastest way to bankruptcy. In addition to this, a merger or acquisition can produce several management challenges that can hinder your growth. If the merger or acquisition requires a reorganization of the workforce, you might face significant resistance if employees have to be laid off. In addition to that, when two companies merge, two distinct work cultures need to amalgamate into one that works for both parties.
Choosing what's right for you
While growth is always the most important priority for any organization, the complete understanding of the business' objectives and capabilities is crucial in determining the direction to take. Once the decision is taken, strategic planning is the next step in ensuring that your move is sustainable and favorable for everyone in the long run.
We suggest a complete review of the needs and plans of the growth and then taking a decision. With our mergers and acquisition services, we ensure that we understand and analyze your requirements and come up with a strategy that will suit your needs. Get in touch with us to know more.